With the increasing development of digital dye printing, it has been more and more popular around the world. Greater competition has also triggered Fedar team to design more better dye sublimation printers that could stand out and win more attentions.
Afterwards, Fedar FD5198E was listed officially in 2019, one of the 8 heads printers researched and tested for four years. During a two-year using from customers, this printing machine has attained a tons of admiration. Therefore, it is called "Mini Cannon" in the printing industry.
But why about that?
It is renewed to smaller in its shape, but stabler, which is unique in the whole market. In spite of rough road, it still maintains its high printing speed and precision. It deserve this calling.
Length: 3180mm; Width: 1100mm; Height: 1740mm; and Cover Area less than 4CBM.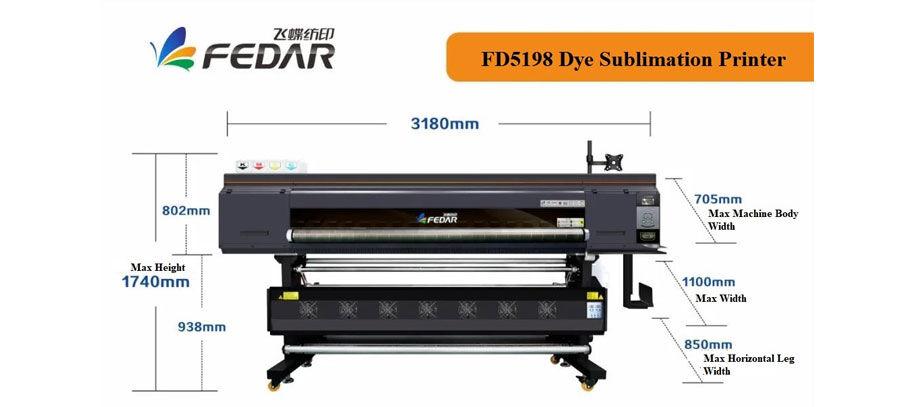 Although its circumstance is under 4CBM, it includes computer main board, display, keyboard and mouse frame, which brings more convenience and tidiness.
How does FD5198 ensure its firmness?
The reason of its stability is that it is tight inside, and every part of it is strengthened.
First of all, to stabilize the machine, beam support is the most important. The beam structure of FD5198E is similar to that of arch bridge. We should all know that the arch system is mainly under pressure, so FD5198E beam stability can be said to be very strong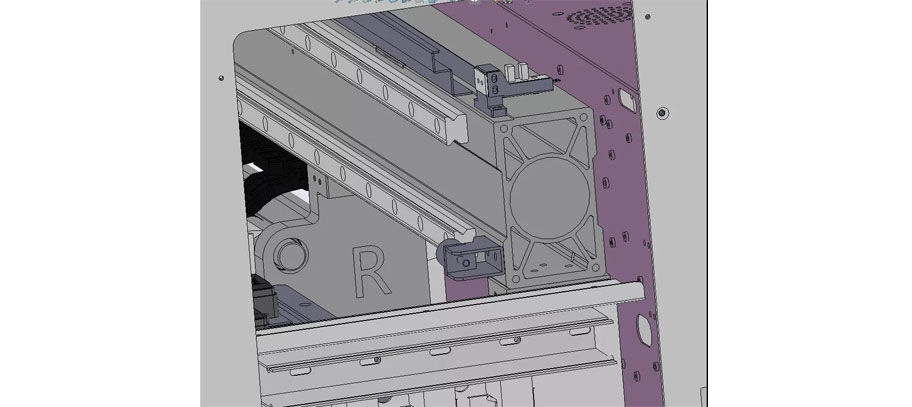 Secondly, the stability of the machine is also inseparable from the support of the panel.  FD5198E not only reinforced the panel to make it more firm, but also upgraded the grain of the panel from the original figure of eight to the present S shape, which solved the problem of printing paper wrinkling, not only to further ensure the stability of the printing process and improve the smoothness of printing.  
In addition, the transport support of FD5198E from 2 to 4, reducing the impact on accuracy during transport.  
The FD5198E not only comes with eight original Epson I3200-A1 nozzles, but also its arrangement of print heads has been updated, so that it can print at 370㎡/h. The new nozzle arrangement also improved the print quality by at least 20 percent. It is well known that the number and arrangement of the nozzle determines the printing speed of the printer. FD5198E's upgrading, for digital printing machine, can be said to be a qualitative leap.

As an alternative to traditional printing, digital printing has been widely used in the printing of clothing, home textiles, personalized fabrics and so on. Digital printing equipment has the advantages of fast speed, small batch production, to achieve a rapid response to market demand. In fact, the emergence of digital printing for the current part of the textile and clothing enterprises are looking for a new model to find a way out. The Fedar FD5198E, known as the printing gun, has naturally become a big boost to its transformation.